The short version - ProofSafe can supply all your WHS / OHS documents, they are set up to suit your business, covering all the normal Tree Industry activities for $1600 (ex GST). See what's included here.
These tree industry documents and policies will completely set you up with the initial paperwork. Using the provided information you can inform the team, identify problem areas, prove compliance and win tenders.
Then to maintain ongoing records you can do it on paper forms or, more easily, use ProofSafe digital forms - The ProofSafe App.
Ongoing use of the digital forms, data collection and asset management is charged based on usage - see our pricing information.
Trees and OHS / WHS safety compliance
ProofSafe offers a full safety compliance solution for arborists and the tree industry.
The law is very clear: to properly protect your team and your business you must do three things:
Keep everyone safe
Have a system to manage safety, and
Keep documents that prove you have a system
It's up to management and, more importantly, the team to take care of part 1 - 'Keep everyone safe' this will rely on building a culture of caring, we're not talking about 'caring and sharing' with some sort of tosser mentality here, this is about ACTUALLY giving a flying fruit truck as to whether you or your mates make it home today. So the first and most important thing has to come from the top down and be fully accepted throughout the team.
Part 2 and 3 - The 'System' and the 'paperwork' - ProofSafe can supply. We can make it simple and affordable - cheaper than you think and much cheaper than a prosecution or injury.
1. Keep everyone safe
The foundation of all workplace safety is CULTURE. What this means is if you and your team actually, truly care about protecting people then it will happen - people will be protected - this is a safe 'culture'. As it happens WHS legislation demands this of us; the laws state that we have a 'Duty of Care' which is an obligation 'to care' whether we want to or not. That idiot who just refuses to use his hearing protection.... we are legally obliged to keep telling him and the boss! This 'Duty of care' is the most important thing for protecting people because if we CARE then we'll act.
You will notice there is no mention of paperwork here in this first section!
2. System to manage workplace safety - OHSMS
Unfortunately some people don't care, or don't care enough, and this is why people get killed, disfigured and hurt. Consequently the WHS laws mandate that each organisation must have a 'system' to protect people - each business is different so it's up to the employers and employees to design and maintain a good system. These systems are often called an Occupational Health and Safety Management System (OHSMS). This is a set of practices that remind the team how everything is done. You can't just wing it, you must have a system.
3. Keep documents for proof
You are required under law to have documents that prove you have a good system. If everyone truly cared then we'd have no workplace injuries and so would not need systems or documents. As it turns out it's much easier for WorkSafe or other regulatory bodies to prove a business doesn't have documents than to prove a worker or supervisor didn't 'care'. So from a regulation and compliance perspective the documentation is the very best way to motivate workers and employers to implement good safety practices.
And prove that you care.
ProofSafe will quickly get your tree business set up with all the documents such as Safe Work Method Statements (SWMS's), Job Safety Analysis (JSA / JSEA) forms, Safe Operating Procedures (SOP's) etc and with forms on your phones or tablets that make it very easy and quick to fill in those forms at every job or for every incident etc.
Safety documents & policies for arborists and the tree industry
ProofSafe tree industry safety compliance documents include:
Company / organisational safety policies
Links to reference materials
Details in plain English outlining the responsibilities of employees and employers
Information for employees, sub-contractors and team leaders
Job Safety Analysis / Job Safety Environmental Analysis (JSA / JSEA)
Safe Operating Procedures (SOP)
Blank template for SWMS's
Safe Work Method Statements (SWMS) for woodchipper operation, stump grinders, tree climbing, chainsaw use, excavator use on tree jobs, chemical use and various others for arboriculture.
Schedules of meetings
Overarching OHSMS pricipals and procedures such as 'contintual improvement'
Detailed information on hearing conservation, manual handling, hazardous materials etc, etc
Training requirements, refreshers, supervision, reporting
Industrial relations components sutied to the arb industry
Emergency procedures
Climbing procedures
Stump grinding, chipping, chainsaw, polesaw, traffic management, skid steer operation, rigging, felling procedures
Elevating Work Platform (EWP) operation
Chemical selection, storage and use guidelines
Environmental policy, reporting, investigation and improvement procedures
Risk Matrix, risk assessments, risk management
Plant and equipment checklists
Audit forms for plant, equipment, work sites & personnel
Safety improvement plan
and more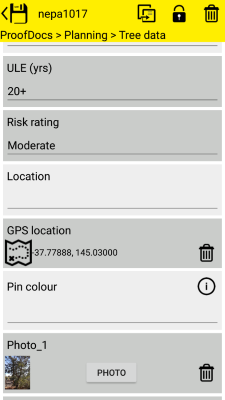 Workplace safety (OHS / WHS) online digital system for arborists & the tree industry
ProofSafe will make it easy for your entire team to manage safety and keep good records. Any digital form can be created including those listed above, they can have text, GPS, images, lists, calculated results etc. The forms are made available to your managers, team leaders, arborists, ground crew and are easily completed and uploaded as needed.
There are two main areas to understand: 1. Forms - whatever forms you need are created, shared and then easily completed in the field by your team, this keeps your records up to date and proves the tree crews are assessing risk, having pre-start safety talks and inducting or training new workers. Then 2. the data collected allows management to properly maintain equipment and assets. This means that when a truck is serviced or a chipper tested that event can be easily recorded, it also means when a fault is identified the operator can immediately log that fault and let the maintenance crew know. These processes are easy to adopt, it's much easier than paper, they save time and mistakes and ultimately prove that you are providing safe equipment and a safe workplace.