Press CTRL + F or Cmd + F to search this page
Downloading the app for mobile phones and tablets
Go to the App Store (iOS) or Play Store (Android) and download the 'ProofSafe' app.
Register directly from your device.
Press the 'Register' button and complete the form. You will then receive a confirmation email with your login details.
Press the black arrow to download your forms.
To try the app and some forms immediatly you can download the app and login using:
Username - 'guest'
Password - 'demo'
Basics of the ProofSafe App
First step is to simply spend 5 minutes having a play around, you can't break your account or destroy your settings so just have a go. There are various icons such as the 'duplicate' button you should try, the duplicate function is one of many that can save the user a lot of time especially on repetitive jobs. Ensure you also look at the menu options on the various pages.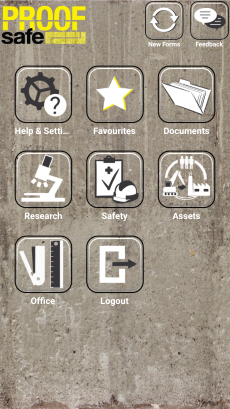 Home page / Favourites The default home page is a range of folders for different types of forms such as Research, Documents, Safety etc (see image), these folders can be changed, if you prefer you can change the settings and make the favourites folder (star icon) your home screen and just nominate your most used forms as favourites by clicking the yellow star
Creating or editing forms
We are currently updating our Form Builder to a shiny new 'drag and drop' interface, in the meantime we are assembling and editing forms on your behalf, simply send us the details of what you want and we'll compile your form, then work closely with you to fine tune and edit as needed.
Reports - how to receive your data
Once you upload a file your data will be emailed to the email address nominated in your account settings. This data arrives in a spreadsheet and is easily transferred to most other formats. If you want your data to go somewhere else or arrive in a different format just let us know and we'll help you set it up.
Billing / Payment
Your organisation is billed at the end of each month, the amount is calculated on the level of usage, ProofSafe will automatically adjust your invoice with consideration to the services you used and the amount of usage.
There is no charge during the trial stage, we will contact you and confirm with you that you wish to continue using ProofSafe prior to issuing an invoice, if you haven't heard from us you are good to go, there will be no surprise invoices.
Permissions
You need to allow ProofSafe to access your camera and images, your location, telephone, modify SD card, network access and 'read device state and identity'. This should happen during setup however if you have a problem such as: 'Can't access camera' or 'Camera has stopped' then first step is to check in your device settings that you have allowed ProofSafe to use the camera and the various permissions are set.
Saving / Caching maps for offline use
ProofSafe works Offline so you can collect data anywhere, however we integrate with Google Maps which requires data transfer to show you the mapping images. This means if you are working in a remote location you need to 'cache' (save it to your phone/tablet) the maps to your phone before your trip. Before going to a remote area you should cache the map you want, that map will then be visible within ProofSafe when your out on location.
Here is how to save or cache maps for offline use:
Short version
Open Google Maps App
Zoom to your desired location
In the search bar type "ok maps"
Click 'Search'
Click 'Download'
Open Maps menu, check it's saved (and not expired)
More detailed version
Open Google Maps App - most devices comes with this Application but if you can't find it you need to go to the App Store or Play Store and download 'Google Maps' to your device
Open Google Maps, this is completely separate from ProofSafe and you do not do this from within the ProofSafe App
Zoom to your desired location - find the area you are going to be working in and zoom right down, use satellite view to get that image layer.
Up the top there is a search bar, type in "ok maps"
Click 'Search' - make sure the area selected includes everything you need, if not you may need to move your map a bit or, after completion, repeat the process for the next area.
Click 'Download'
Go to Google Maps menu (3 horizontal lines up the top), then go into 'Offline maps' and check that your area or areas are saved (and not expired). Your map will expire after 30 days, however you can go into the Offline maps section > Settings, and turn on the 'Automatic update' option. Also here you can choose where the data is stored so if you're running out of space you can allocate the maps data to an SD card
Notes on maps: In the process above there are three separate software programs involved: 1. Google maps which you use to navigate, zoom, search. 2. Google map Caching - this saves map data to your device (phone/tablet) but you can't access the map, or zoom in on it here. Then 3. ProofSafe - ProofSafe uses the saved map now on your device to help you collect location information. So you can zoom, scan and search within ProofSafe and Google Maps but not from within the Caching function.
Call, email or use the feedback button on the ProofSafe App to contact us, we'll respond quickly and will include further information here when requested.